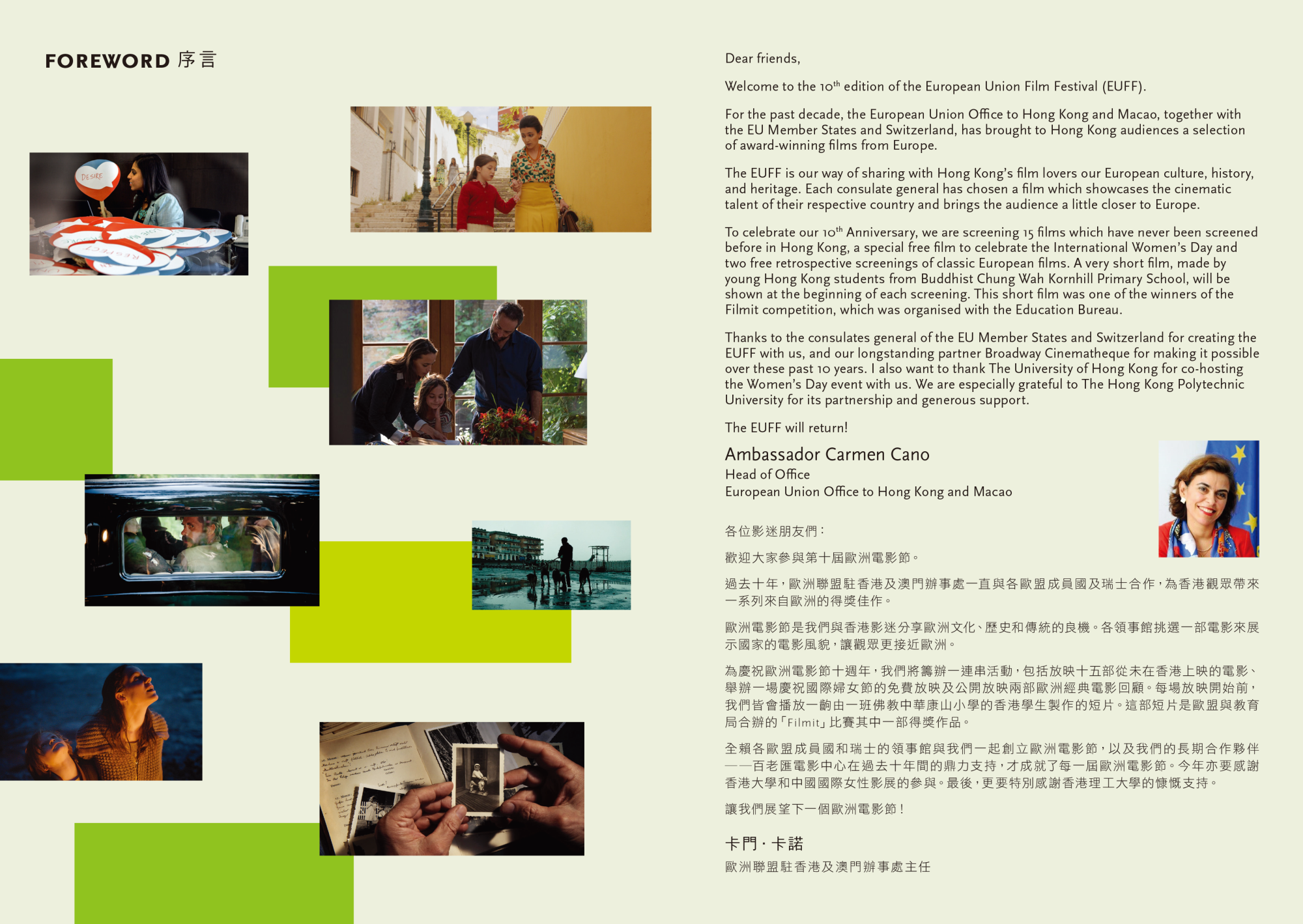 Dear friends,
Welcome to the 10th edition of the European Union Film Festival (EUFF).
For the past decade, the European Union Office to Hong Kong and Macao, together with
the EU Member States and Switzerland, has brought to Hong Kong audiences a selection
of award-winning films from Europe.
The EUFF is our way of sharing with Hong Kong's film lovers our European culture, history,
and heritage. Each consulate general has chosen a film which showcases the cinematic
talent of their respective country and brings the audience a little closer to Europe.
To celebrate our 10th Anniversary, we are screening 15 films which have never been screened
before in Hong Kong, a special free film to celebrate the International Women's Day and
two free retrospective screenings of classic European films. A very short film, made by
young Hong Kong students from Buddhist Chung Wah Kornhill Primary School, will be
shown at the beginning of each screening. This short film was one of the winners of the
Filmit competition, which was organised with the Education Bureau.
Thanks to the consulates general of the EU Member States and Switzerland for creating the
EUFF with us, and our longstanding partner Broadway Cinematheque for making it possible
over these past 10 years. I also want to thank The University of Hong Kong for co-hosting
the Women's Day event with us. We are especially grateful to The Hong Kong Polytechnic
University for its partnership and generous support.
The EUFF will return!
Ambassador Carmen Cano
Head of Office
European Union Office to Hong Kong and Macao
Show More
The 10th European Union Film Festival
The European Union Film Festival (EUFF) is an annual festival, which is hosted by the European Union Office to Hong Kong and Macao, in association with European Union member states and Broadway Cinematheque. This joyous occasion, which is now in its 10th edition, will take place on February 21st with a special screening of 15 carefully-selected European masterpieces and award-winning films at Broadway Cinematheque and AMC Pacific Place.
The festivities of the European Union Film Festival kick off with a special screening of the Spanish comedy blockbuster – Champions, which received a whopping 11 nominations at the Goya Awards. This well-received title follows Marco, the assistant coach of a renowned basketball team in the Spanish First Division, who is experiencing problems both at work and at home with his wife. As his frustrations with life boil over with an ill-advised brawl with the head coach during a basketball game, he makes matters worse by getting drunk and subsequently crashing his car into a Police vehicle, for which he promptly ends up in jail. Upon release, he is selected to coach a special basketball team of intellectually-disabled players as punishment. To his surprise, this experience proves more enlightening, and amusing, than he imagined as he slowly re-discovers the things that matter most in life.
The EUFF grand finale features a delightful screening of the proud winner of Best Script and Best Film at the Irish Film and TV Awards - Michael Inside. The movie documents the vulnerability and despair of Irish youths like Michael McCrea (played by Dafhyd Flynn), whose life is derailed after he was caught holding a bag full of drugs for a friend. He not only ends up in jail, but also enters the inevitable cycle of crime and incarceration. This harrowing picture is authentically portrayed by director Frank Berry, with help from former prisoners of the Irish Prison Service's Pathways Programme. Viewers can enjoy a special Q&A session with director Frank Berry after the screening.
Other than never-before-screened masterpieces from Europe, EUFF attendees can also enjoy a complimentary screening of the twin classics: The Lives of Others and Amelie.